Biennale di Architettura 2016
Biennale di Architettura 2016
David Chipperfield Architects is participating in the 15th International Architecture Exhibition – La Biennale di Venezia, curated by Alejandro Aravena, with a contribution on the Naga Site Museum in Sudan.
Sir David Chipperfield on his presentation of the Naga Museum at the Venice Biennale: video
Exhibition concept: David Chipperfield
Exhibition collaborators: Olwen Fowler, Christof Piaskowski, Martin Reichert, Alexander Schwarz
In collaboration with: The Niles by MiCT, Naga Project
Exhibition graphics: Gunnar Bauer Graphic Design
Documentary film: Klaus Uhrig, Bayerischer Rundfunk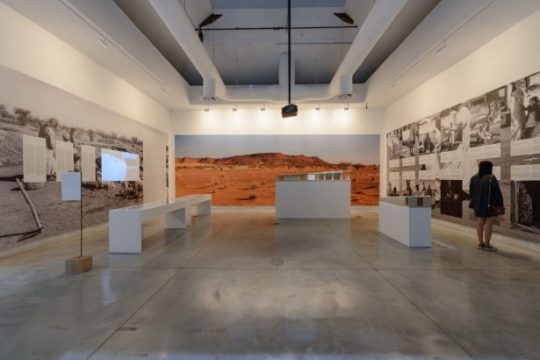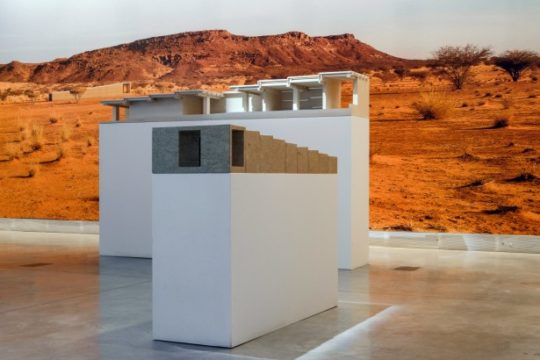 The exhibition aims to provide an overall impression of the site and its context. The project itself is presented using models and a large-scale digital image, while the context is outlined in the form of short interviews with a diverse range of people connected to Naga, a film by Bayerischer Rundfunk focusing on the archaeological excavation as well as a small range of objects from the excavation itself.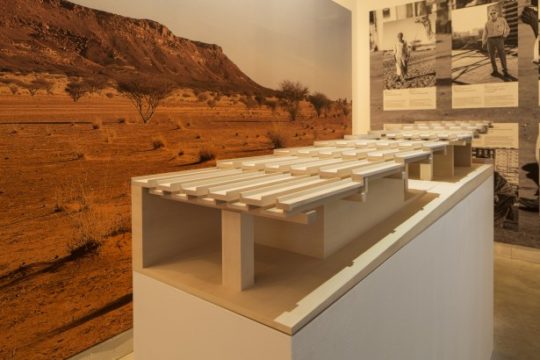 "The scenery of this timeless and antique land is enhanced by the silhouette of the uncovered temples and remains, and the presence of Bedouin herders appearing out of the scrub to water at the artesian well. These considerations pushed us to design a building of protection, reception and explanation, not as a building discreet from its 'subject' but rather engaged in the place and its dominant physical conditions, heat so strong that the work on site is suspended for half the year, sandstorm so extreme that glass cannot survive and the threat of theft that requires the buildings to be secure. In doing so it aims to create a continuity, sharing the concerns of our ancestors and emphasising the fascination in the achievements of our predecessors not as something dead and buried but as part of man's continuing desire for civilisation."

David Chipperfield
"There are many lessons that we should keep in mind from this project: when dealing with a strong valuable heritage in places with limited resources, simplicity (not banality) is a way to rise to the challenge. When we have to do the same in places with abundant resources, modesty – always a consequence of self-confidence – is a way not to drown what we are trying to save. From the context, one can guess that a lot of threats menaced the quality of the outcome, but none of these difficulties altered the elegance of the solution. It is always rewarding to see battles won with such calm."

Alejandro Aravena