The Museum
Concept
Some of the Naga artwork – the altar from the sanctuary of the Temple of Amun and the throne pedestal from its forecourt – have found a place in the National Museum of Khartum. But for the multitude of other objects – and for the finds of future excavations – a museum is being erected in Naga itself. This project embraces UNESCO recommendations in displaying archaeological finds near their place of discovery, as an integral part of the ancient sites. The Naga Museum is also conceived as a place of cultural and historical identity for the whole of the Sudan. Even now, Naga's unique atmosphere attracts schools, students and weekend visitors.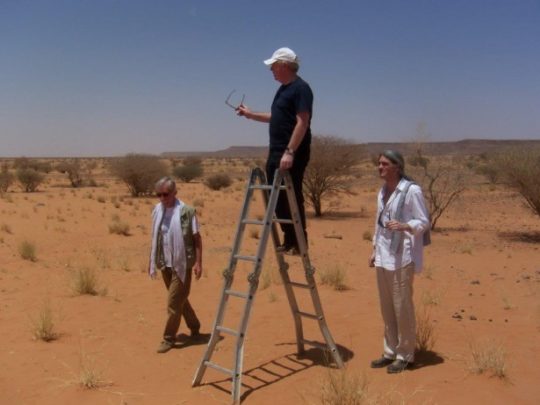 The British architect Sir David Chipperfield was seized with enthusiasm about the museum project and has donated blueprints for a concept that integrates perfectly into the landscape. Unusual modern architecture in an unusual place – the Naga Museum will take its place among the many unique works of art defining this historic site.
The Building
The windowless building will be erected in compressed concrete, fabricated on-site out of local aggregates – sand and gravel – giving it just the right colour to blend into the landscape.
A roof construction of prefabricated concrete elements will allow indirect sunlight to filter into the rooms. The ground level will rise parallel to the height of the rooms from the entrance loggia on, leading from a colonnaded court into the main room, where a terrace will offer a view of the Temple of Amun. In the main room, the façade of the pylon of Temple Naga 200 will be rebuilt full-size. The front area of the museum will house large magazine and work rooms.
The building site has been cleared with UNESCO's World Heritage Center. Construction is due to start as soon as possible. The Qatar Sudan Archaeological Project has agreed to finance the building.