Naga in the media
Below, all press contributions are listed that have appeared since takeover of the Naga project by the State Museum of Egyptian Art in 2013:
(For copyright-reasons, the articles can only be listet but not quoted in full lenght or offered for download)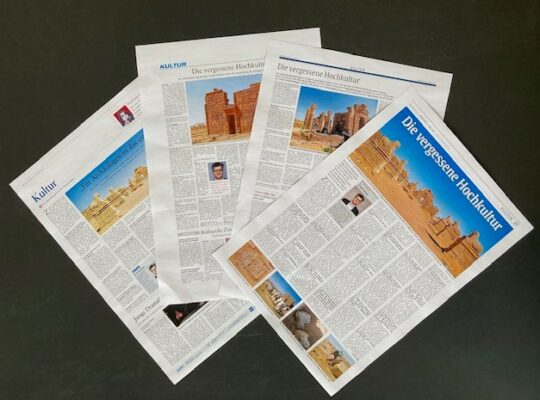 Interview Christa Sigg – Arnulf Schlüter on Naga in different newspapers
Die antike Königsstadt Naga im heutigen Sudan liegt in weiten Teilen unter der Erde. Ein Münchner Forscherteam um den Ägyptologen Arnulf Schlüter bringt sie Stein für Stein ans Licht.
Newspaper report: Landshuter Zeitung – Magazin zum Wochenende
Saturday / Sunday, 15. /16.05.2021
Die vergessene Hochkultur
Newspaper report: Die Rheinpfalz
Tuesday, 20.04.2021
Die vergessene Hochkultur
Newspaper report: Donaukurier
Thursday / Friday, 1. /2.04.2021
Die vergessene Hochkultur
Der Münchner Ägyptologe Arnulf Schlüter über die Ausgrabung der Königsstadt Naga im Sudan
Newspaper report: Rhein-Zeitung – Koblenz
Tuesday, 23.03.2021
"Für Archäologen ist das ein Traum"
Newspaper report: Abendzeitung
Thursday, 04.03.2021
Die vergessene Hochkultur
Newspaper report Donaukurier
Thursday, 04.02.2020
Fünftausend plus 50 Jahre
Jubiläum: das staatliche Museum Ägyptischer Kunst blickt auf ein halbes Jahrhundert zurück.
mit Erwähnung des Naga-Projektes und Luftbild Grabungsareal Gebäude 600
von Sabine Busch-Frank
TV interview
09.03.2018
TV interview of Prof. Wildung with Ms. Afra Ahmed Fathel rahman Khogaly for the culture program of the sudanese TV Media Broadcast, arranged by the Minister for Tourism, antiquities and wildlife Mohamed Abu Zaid Mustafa and the Sudanese ambassador in Berlin HE Badreldin Abdalla
Newspaper report Neuburger Rundschau
Saturday, 07.10.2017
Blick in das Leben vor Jahrtausenden
Bericht über die Arbeit von Christian Perzlmeier in der Stadt Naga.
von Gloria Geißler
Video Shoot
July 2017
Sudan-The Cradle of Nile Civilizations
Video Shoot with Prof. Wildung on the initiative of the Sudanese Ambassador HE Badreldin Abdalla
Radio interview Radio Opera
Interview of Arnulf Schlüter: "Grabungen in Naga"
Web-Special of the Bayerischer Rundfunk on Naga
TV interview ARD Alpha
Wednesday, 17.02.2016
"alpha-Forum" interview of Sylvia Schoske and Dietrich Wildung.
TV-documentary ARD Alpha und ARTE
Wednesday, 17.02.2016, ARD Alpha / Wednesday, 10.02.2016 ARTE – "X:enius"
"Tempelstadt Naga – Die verschüttete Hochkultur"
Radio contribution Bayern 2
Newspaper report in tvwissen
28.01.2016 / Ausgabe Nr. 3-2016
Die Rätsel der Tempelstadt
Manuel Opitz
Newspaper report TZ
19./20.09.2015
Münchner Wüstensohn. Die Arbeit Arnulf Schlüters im Sudan
Matthias Bieber
Newspaper report Süddeutschen Zeitung
Tuesday, 08.09.2015
Kopflose Schönheit.
Evelyn Vogel
Newspaper report Berliner Zeitung
Monday, 13.04.2015
Chipperfield im Sudan. David Chipperfield entwirft Museum in der Wüste
Martina Doering
Newspaper report Münchner Merkur
Friday, 16.01.2015
Glücksgefühle in der Gluthitze
Marian Meidel
Newspaper report Süddeutschen Zeitung
03./04.01.2015
Jäger des versunkenen Reiches
Thomas Anlauf